Nina Downs

Hello fellow Sons of Norway members!
It gives me great pleasure to have been given the opportunity to serve as your next Social Director. I wanted to take a few minutes to tell you about myself, my relations in Norway, my plans and/or ideas for future meetings and ask for your feedback.
I am a second generation Norwegian. My mother, Annichen Hassel Hauge Thomason, was born in March of 1945 in Oslo. My father, Thomas Thomason, was born in 1939 and raised in southern Kentucky. He had a career in the Army and was serving in Germany when my parents met and married in 1965.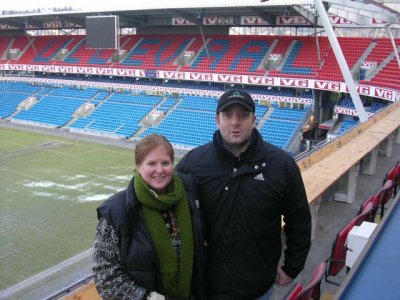 ---
Nina and Bob Downsat the Ullevaal Soccer Stadium 2004
I was born in Stuttgart, Germany, my brother was born in Brussels, Belgium and my sister was born in Tehran, Iran. Yes, we are an international family! My father retired from the service in 1980 and we moved to Louisville, Ky to be closer to his family. I graduated from high school in 1983 and then attended the University of Kentucky for 2 years, returning again in the late 1990's and finally graduating in 2001 with a BS in Dietetics.
In early 2003 I met my husband, Bob Downs, and moved to Cincinnati. He is a soccer coach/trainer. We were married in November 2003 in Jacksonville, Fl where Bob is from. Our son, William Benjamin, was born in August 2005, on the 100 year birthday of my grandfather, William Hauge! We love to travel and spend a lot of time visiting friends and family everywhere as well as traveling for soccer tournaments. I am currently a stay at home mom, a job which makes me greatly appreciate my mother, who passed away in 2002.
I grew up going to Norway every summer, generally for almost 3 months. We stayed some time in Oslo and did a little traveling around, but most of the time we spent at our summer cabin in the south of Norway by a town called Kragero. My family owns an island called Aero. It is not very big, there are only 4 cabins total on the island. Our cabin has no running water and no electricity. It is my favorite place in the world and pure heaven on
earth! We spend our days swimming, fishing, hiking, and sunbathing. I attended the 1994 Winter Olympics in Lillehammer, and have been back to Norway almost every summer since 1998. My husband and I went for Christmas and New Years after our wedding for a honeymoon and, Benjamin and I went to Norway for 5 weeks last summer. I hope to keep going at least every other year until I can no longer travel.
I am very close to my family in Norway. I have 2 aunts and uncles and 6 cousins. They live everywhere from Gjovik, Raufoss and Oslo to Bergen. My grandparents were wonderful people and my biggest role models in life. My grandfather passed away in 1986 and my grandmother just passed away in 2005 at the age of 93. She has family trees for both sides of her family tracing back to the mid 1600's. Her uncle, Odd Hassel (born May 17, 1897-died 1981) was given the Nobel Prize for Chemistry in 1969. I joined the Sons of Norway because it is important to me that I keep in touch with my Norwegian heritage and that my son be influenced.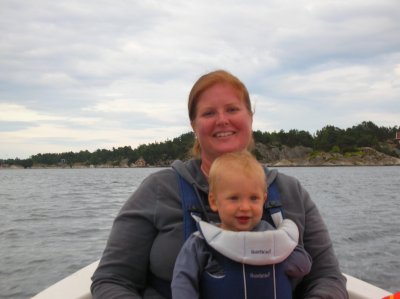 ---
Nina and Benjamin visiting Kragero

As Social Director I would very much like to see more people attending our monthly meetings. I would like to have meetings where we learn more about each other and our connection to Norway.
Our March meeting will be a "Show and Tell" meeting. You bring an item, a picture, a letter, a memory, or an idea that you love about Norway and share it with everyone. Can't wait to want to learn how to do rosemaling and wood carving. We are planning to start a sewing/knitting/craft circle and hope that many of you will join us.
Lastly, but most importantly, I would like to hear some feedback from you! What kind of meeting would you like to attend? Do you prefer to meet in restaurants or in someone's home? Would you like to host a meeting or have a suggestion for a place to have one? What time and day is best for you to attend a meeting? Please e-mail, call or write me with your thoughts and ideas!