Sons of Norway

Newsletter
April 2006
Edvard Grieg Lodge 657 District 5
Cincinnati-Dayton, Ohio, and Northern Kentucky
The First Lodge in Ohio
Sons, Daughters, and Friends of Norway
Per Flem, Editor
President's Message
Visualize Cincinnati ?
Spring is in the air and the weather is warming. We had a mild winter but we are anxiously looking forward to daily sunshine and warm nights. It is great to live in Ohio and experience the changing seasons and weather that is similar to that in Norway. We are coming to the time of year when people are making vacation plans. Perhaps, this will be the summer that you take a trip to Norway or to a community that treasures the heritage of Norway.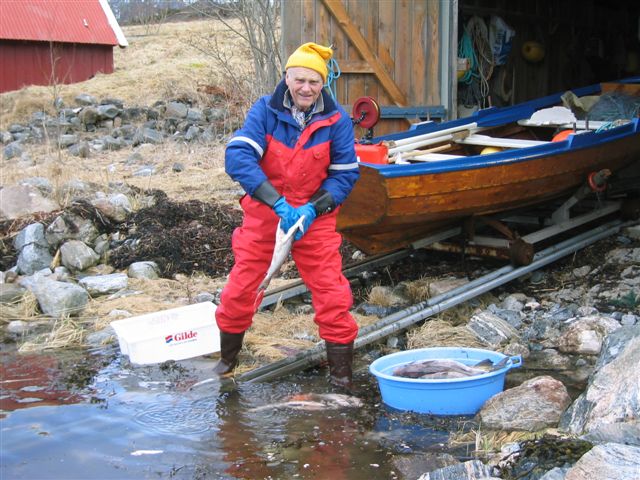 ---
This picture of my cousin, Karl Hurlin, taken a half a year before his death from cancer,
is so typical of a picture in a frame in Norway:
a man, his boat, and proof that he can catch fish. Visualize happiness. Picture from Per Flem.
Last year my son and I visited the Scandinavian Heritage Museum in Ballard, Washington. This community is a uniquely Norwegian-American neighborhood with many traditional Norwegian and Scandinavian shops. The locals have a quaint sense of humor and many of them have bumper stickers on their cars that say, "Visualize Ballard". I asked about the bumper stickers and was told that being from Ballard and being Norwegian means you are special. I like it!
There are numerous Norwegian cultural activities that are available and are within a reasonable driving distance to us. We encourage you to seek out these vacation choices this summer.
About the Sons of Norway Spring and Summer offerings…
There are several events and activates taking place in the month of April. The White Elephant Auction, the Ashville Viking Festival, and "Hedda Gabler" at the University of Cincinnati are described in detail on the web page.
In recent years, Sons of Norway has been actively reaching out to the "younger" community of Norwegian-Americans. The Viking magazine has many interesting cultural articles that cover subjects on modern Norway. There are also specific pages for children each month that look at various cultural and historical subjects. Sons of Norway sponsor summer camps where children can go to get an introduction to Norwegian language and culture. They also offer scholarships to study at "Camp Norway" - a 6 week summer language camp in Sandane, Norway - and the University of Oslo's International Summer School.
Syttende Mai is coming…
It is not too early to mark your calendar for Syttende Mai (May 17th). Kari Poe has graciously agreed to open her home up for this occasion. An evening full joy and laughter is always in the plans. Check our web site for more information. See you there.
We had a Board Meeting…
We recently had a Board meeting at Panera Bread restaurant. Nelda Chandler, Carol Stone, Lance Larson, Carol Luiso, Esther Charlton, Linda Burge, Sandy Nelson and Karl Flem were present. We discussed several topics for future Lodge meetings. Jule Fest, an annual joint meeting with the Scandinavian Society, and conducting a Scandinavian craft sale/soup supper were discussed.
On a sad note, we accepted the resignation of Carol Stone as our Lodge Secretary. She did an outstanding job for us in organizing our first Jule Fest. We wish Carol all the best.
Finally, this month in Norwegian history…
On April the 9th, 1940, Germany attacked Norway, and after two months of resistance completed the occupation. The Norwegian king and government fled to England. The leader of Norway's National Socialist party, Vidkun Quisling, was nominated by Hitler to form a government. Norway was occupied for the duration of the war.

Syttende Mai

Syttende Mai is Constitution Day – the Constitution that was ratified by the National Assembly at Eidsvoll in 1814, and has through some changes seen us through to today. As a symbol the Constitution represents also two great themes, national independence and political freedom – democracy and the rights of citizenship. Norwegian patriotism of the 1800s tied these two aspects together as the idea "Norwegian freedom." Later on this concept of freedom took on new meanings, for example international peace work. Syttende Mai is also a family day, but the difference from all other Norwegian holidays is first and foremost this: it is the only day the most important events take place out in the public space rather than in the four walls of the home. Syttende Mai has become a day for the children, even though it was not originally. The children's parades became a big success from 1870 on, and have become the most popular event on Syttende Mai. With the children in the city center, many other things follow: ice cream, soda and sausages.

Bunad Interest Group

Plans are underway for a "Bunad and Festival Interest Group!" Some of our members have contacted me with a desire to form an interest group...now, I would like to know who else is interested! As mentioned in our last newsletter, a true Norwegian bunad is a real treasure! Some of our members are fortunate to have real bunads, with all their history and family ties. Kari Poe, Nina Downs and a few others have been "showstoppers!" in their bunads! For several years, many of us have expressed interest in pursuing a "festival dress" (costume) that we can sew or purchase. Currently I am compiling several resources for the sewing or purchase of festival dresses and men's vests. I am having good success with resources here and in Norway....it is exciting! Some of our members have parts of bunads and pieces which may need repair or alteration. I am pursuing some sources for help on these situations, also. We will explore the history of bunads...the significance of regional and national bunads and how bunads are a part of modern Norway.Then, we will explore the festdrakt (festival dress) resources for the women and men in our lodge. Please contact me if you are interested in being a part of this interest group.

Hilsen to alle,
Linda Burge

---

Here a golfer at Lygna's winter golf course works on his stroke.

---

And you golfers thought it was tough finding a ball in tall grass.

For those golfers who had put their clubs away for the season, from Norway, here is a new and exciting sport.
Images from Aftenposten by Svend Ole Kvilesjo. Go to www.golf.no for more details.

Membership
We welcome Dorthe Baardseth as the newest member of our lodge. She is enjoying a year here as an au pair.
We were delighted with her program for our February lodge meeting.
Dorthe has been a frequent participant in our meetings, and it is a delight to have her around.
Take note of Jim Olson's (who is our International President) column in the current April Viking, and his discussion of our need for new members.

April 22 meeting-White Elephant Sale
Susie and Glem Mikaloff will host a season favorite White Elephant Sale at their home, on Saturday April 22, with dinner at 5:00pm. Please bring an unwanted "treasure" for auction. This meeting is perhaps the funniest meeting we have due to the expert auctioneering of Glen, the fabulous hosting of Susie, and the nature of the items auctioned. For those who can't read between the lines, please bring something that is really bad!
All proceeds go to the lodge fund. Bring money and a sense of humor. Directions are on the lodge website, bring a side dish or dessert to share.
Hedda Gabler – April 27
Help celebrate the year of Henrik Ibsen and join other lodge members to go and see Hedda Gabler at CCM as a musical. The tickets are free, but we must reserve them for the group. Let Esther Charlton know by April 22, if you wish to be part of the group. We will arrange a location to meet and carpool once we know who wishes to attend.
Ashville Viking Festival, April 29
This festival is a result of collaboration between The Lost Viking Hoard and the townspeople of Ashville, Ohio, which is around 20 miles South of Columbus. It will be held from 10 to 5 on Saturday, Apr8l 29 & Sunday, April 30. Ed and Nancy Vallette, leaders of the Lost Vikings Hoard, and members of our lodge will present a program on Vikings. You can check their website for all the details www.ashvillevikingfest.com. Our lodge will have a booth at the festival and if you would like to help at the booth contact Esther.
Friday, May 12
The flag of the Kingdom of Norway will be raised over the Ohio Statehouse Columbus, Ohio in Honor of Syttende Mai. Come and attend the flag raising ceremony hosted by the Governor's Office. We will meet at 11:30 in the Rotunda and go to lunch together after the ceremony. For any questions or more details, contact Esther Charlton who is the coordinator for this event.
Saturday, May 20
The Scandinavian Society of Cincinnati invites Edvard Grieg lodge to their annual celebration of Syttende Mai. It will be in the Friendship Hall of Friendship United Methodist Church, 1025 Springfield Pike, in Wyoming. Come early at 5 p.m. and bring a Norwegian item for the display table, and see what interests you from among the silent auction items. At 6 p.m. there will be a catered buffet dinner from Schmidt's Meats. You may RSVP for the evening by sending your check for $10.00 to Esther Charlton by May 17th. At the newsletter deadline the program was still being finalized, but when it is the program details will be on our website.

Alene Rice new Tubfrim chair
Alene has kindly accepted the position to take care of Tubfrim for our lodge. Tubfrim sells stamps and telephone cards, the proceeds of which help handicapped children and youth and also finances tuberculosis research. Please save stamps and bring them to a lodge meeting for Alene. You may send them to her at 2 Forest Pl, Glendale, Ohio 45215. We thank Alene for helping the lodge with Tubfrim. There are brochures available about Tubfrim if you would like one contact Alene.

Birthdays

April
Sonja Kinney[1], Katherine Sanders[2], Sarah Karam[17], Robert Price, Jr.[18], Gretta Hahn[22],Donna Kent[25], Robert Price, Sr.[26], Walter Varland[27].

May
Roald Storetvedt[1], Kortney Flem[4], Rosalie Wingler[14], Robert Niehaus[15], Viki Petreman[15], Dan Beckman[18], Bob Person[23].

June
Lance Larsen[2], Clare Williams[7], John T. Ericksen[11] Pamela Nelson[13], Susan Price[18], Joyce Kosobud[23], Kjetil Marstrander[24], Carol Stone[25], James Lee[27], Carol Luiso[28].

Culture, from Norway.org
Translation of Undset's "Kristin Lavransdatter" Trilogy Gets Much-Needed Face Lift
A new translation of Sigrid Undset's trilogy about Kristin Lavransdatter is now being published in the U.S., to rave reviews from literature critics.
It took 80 years, but now the English translation of Kristin Lavransdatter finally got a face lift. Tiina Nunnally has translated Sigrid Undset's trilogy about Kristin Lavransdatter, which was recently published in a Penguin Classics Deluxe edition, with all three books in one.
The Boston Globe literature critic Katherine A. Powers agreed, calling the original translation "a book to save for the nursing home years or a stretch in prison." Appropriately, the Globe's review was called "No Longer Lost in Translation."
Go to following link for further information.
http://www.norway.org/culture/literature/nunnally.htm?wbc_purpose=Basic&WBCMODE=PresentationUnpublished

Lodge Officers and Chairpersons:

President
Karl Flem
9436 Morrow-Woodson Rd.
Pleasant Plain, OH 45162
513-877-3005
flem1973@yahoo.com

Vice-President
Nelda Chandler
11409 Geneva Rd.
Forest Park, OH 45440
513-742-9504
Neldaandelma@earthlink.net

Secretary
Rosalie Wingler

Treasurer
Carol Luiso
1006 Paxton Lake Dr.
Loveland, OH 45140
chluiso@aol.com

Social Chairman
Nina T. Downs
1478 Montegor Dr.
Cincinnati, OH 45230
513-561-1759
ninatdowns@fuse.net

Cultural Co-Chairs
Sandy Nelson
snel1234@aol.com
Diane Person

Raffle Chairman
Susie Mikaloff
7472 Stone Ridge Dr
Springboro, Oh 45066
937-748-8121
g_mikaloff@email.msn.com

Membership and Counselor
Esther Charlton
3798 Susanna Dr.
Cincinnati, OH 45254
513-923-3798
esthersofn@cinci.rr.com

Newsletter Editor
Per Flem
4269 Berryhill Ln.
Blue Ash, OH 45242
513-791-8942
perflem@RectoMolded.com

Webmaster
Lois A. Evensen
PO Box 9450
Cincinnati, OH 45209
513-281-8408
Lois@Evensens.net

Foundation Chairman
(Open)

Adopt-A-School
Donna Marstrander
5527 Woodvalley Ct.
Mason, Ohio 45040-2622
513-398-4285
Donna@Marstrander.com

Publicity
(Open)

Tubfrim
Arlene Rice
2 Forest Place
Glendale, Oh 45215
513-771-4378
Clocks@goodnews.net
---
Click here to go to the Front Door of this Edvard Grieg Sons of Norway Web Site

---
This entire Sons of Norway Lodge #5-657 web site:
COPYRIGHT © 2000 - 2006 by Lois A. Evensen for exclusive use by Sons of Norway Lodge #5-657, Cincinnati-Dayton, Ohio.
No part of this web site may be reproduced in any form without written permission from its owner.
ALL RIGHTS RESERVED.
---
United We Stand