Odds and Ends by Linda Burge
H
i to alle,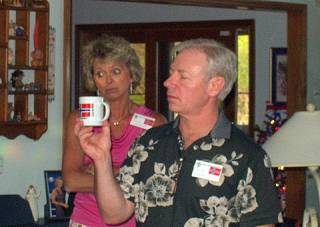 Glen shown here working his magic;
Susie seems skeptical. Photos of event by Bob Hippert.
By all accounts, our April meeting, the "White Elephant Auction," was the place to be! Graciously hosted by Susie and Glenn Mikaloff, I am told that the evening was full of fun, laughter and great food!
Glenn Mikaloff is now our very own "Auctioneer Extraordinaire!" As members brought their "white elephant" items to the meeting, Glenn brought out the best Nordic traits and tales of the items and submitted them for the group's bidding. Sand from beaches....certainly Nordic...rock that must have come from the most beautiful of Norway's fjords...and even napkins with French (oops!) Norwegian phrases were some of the highlights.
Carol and Kari engaged in the biggest bidding war...with Carol prevailing! Perhaps this will become the first of an annual "White Elephant Event!
Again, thanks to the Mikaloff's! And, to our auctioneer...I hear your imagination and wit are unsurpassed!
What a glorious spring evening we had to celebrate the 17th of May at the home of Kari Poe's. Nearly twenty five people....there was a great abundance of food....and, lots of good conversation and fellowship! Thank-you for Kari Poe for hosting the wonderful evening. Kari is always such a gracious hostess. We welcomed Nina and her baby to the festivities.
The next regular meeting of the lodge will be on June 25th at Susie and Glenn Mikaloff's! This has become an annual event at the Mikaloff's.... celebrating Mid Summer's Eve with a pool party at their home. The event is scheduled to start at 3:54pm . Glenn will be serving up his famous "Bjorn Burgers!" Please bring a dish to share and make sure to rsvp to the Mikaloff's!
We will be looking for some people willing to host meetings at their homes this fall. September through December will be the months we need. Let me know if you are interested!  
Always visit our web site for specific information about upcoming meetings. Lois Evensen does a fantastic job keeping our site up to date. It's a fantastic resource for all of us.
Looking ahead to July, you will notice that we will not be having a regular meeting. Dan Beckman and his wife have invited our members to his lake for a picnic. See the web site.
Garrison Keillor is scheduled to be in town during July....another good way to get a little of that Norske humor!
We extend the our proudest congratulations to Kjell Eversen as he is now an official United States citizen.
Donna Sutphin and Anders Marstrander are getting very close to their wedding day in Norway! We wish them all the best and can't wait to hear every detail!
Rosalie is planning on attending the famous "Host Fest" in Minot, North Dakota, this summer. We will all look forward to hearing about that.
Myself, I am proud to say that I am going to be a "Bestemor" this fall! Actually, a MorMor, my daughter and her husband will have their first baby! My cousin in Norway uses the word "lilleba" for the little one to come...I like that very much!
Many of our members will be visiting Norway this summer...it will be fun to hear their tales of their visit to the "Motherland!"
I am sending this out via email...if you know of someone I should add to my address book, please let me know!
Beste Hilsen,
Linda Burge