Future meetings
The October 15th meeting will be on "Lief Ericson, and the world", at the Mallards of Mason Clubhouse, 7487 Somerset Road, Mason. Susie Mikaloff will present her unit on Lief Ericson, which she has taught to students in Springboro. Susie will also have a lefse demonstration, with sampling. Dinner at 6:00PM. Bring a main dish, an extra dish or dessert and your own table service. Call Sandy Nelson at 336.9810 if you need directions and to RSVP. More details on website.
The November 19th meeting will be a business meeting, "Past, Present, and Future". Membership pins will be presented. 30 year pin: Janice Ohlsen,20 year pin: Ann Christiansen and Susie Mikaloff, 15 year pin: William Halverson, Helen Hippert, Robert Price, Neil Sorum, Thomas Traunt,10 year pin, Jan Garnaes-Johnson, Carol Olson, Vicki Petreman. Since there are 53 members eligible for 5 year pins, they will be distributed as requested (by Nov.10th) only. Please call me, Per Flem at 739-6240 if you wish to receive 5 year pins. The meeting will be at 3:00PM at friendship Methodist Church, 1025 Springfield Pike, in Wyoming.
The December 17th meeting will be an all-out effort to make this the most meaningful event of the year. The program will start early with members cooking old time favorites. Singing around the tree, and then re-enacting those traditions that make a Norwegian Christmas very special. Specialty foods of course will be eagerly anticipated. Members are encouraged to bring grandchildren, and other guests. Karl has invested in a number of books, "KEEPING CHRISTMAS" by Kathleen Stokker, which describes the evolution of Christmas traditions in Norway, and how they were assimilated into the New World.
Depending upon which part of Norway these Norwegian immigrants grew up, dictated some widely differing traditions. Ham on the west coast, lamb in the east, vegetables for the wealthy in large cities, and always various home brews that were always highly complimented in order to get some more samples. Neighborhood "visits" were a big feature, and providing superior hospitality was a method of maintaining one's status in the village. This was in a period before automobiles, when visits meant a trip that might take hours in a row boat or horse drawn cart, in the midst of winter. It puts perspective for us here in Cincinnati when schools are closed when we get 4" of snow.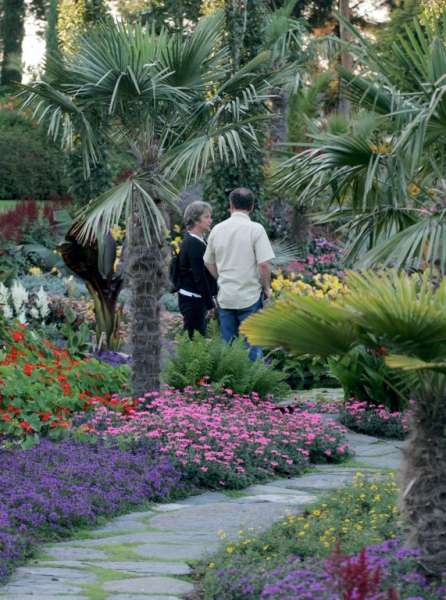 About a year ago we had a picture of palm trees in Norway that seemed suspect to some readers, here on an island named Sor Fjaere, west of Stavanger is proof that palm trees do grow in Norway. The couple that has made this"Eden", Olav and Siri Bryn have resorted to tricks such as windbreaks to keep temperatures warm enough to protect their 25 varieties of palm trees. Picture by Alf Ove Hansen, from Aftenposten. Isn't this typical of the Norwegian psyche? When someone says you can't do something, there is a Norwegian out there, that just has to prove them mislead